July, 12, 2012 05:48 PM ET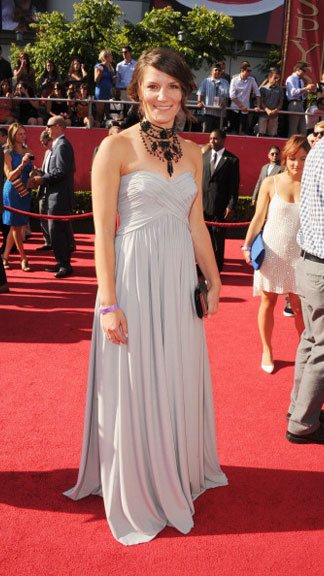 Getty Images Kaya Turski at the 2012 ESPYs on Wednesday night.
On Wednesday night, Kaya Turski walked the red carpet at ESPN's annual ESPY awards at the Nokia Theatre in Los Angeles. The six-time Winter X Games Ski Slopestyle gold medalist was there alongside athletes like Eli Manning, David Beckham, LeBron James, Danica Patrick, Tim Tebow and many others. Turski was one of four women nominated for Best Female Action Sports Athlete, including snowboarders Kelly Clark and Jamie Anderson and surfer Carissa Moore. Anderson walked away with the win, but Turski was more than pleased with the nomination. Turski and ski racer Lindsey Vonn, who was nominated for Best Female Athlete, were the only skiers nominated this year. We spoke to Turski on Thursday about her first ESPY appearance.
What was your reaction when you heard you were nominated for an ESPY?
I was thrilled. What a dream come true. I put my heart and soul into what I do and it was so cool to have my hard work pay off and be recognized for it. What an honor to be nominated among some of the very women I look up to who are so inspiring.
How about when the winner's name was announced?
I was so happy for Jamie! It's funny because Jamie and I were rooming together at the event and were just both so honored to be part of the ESPYs and excited for each other. She is one of the most talented people I know and deserved the award — she had an amazing season. It makes me want to keep working hard.
Do you think your nomination is a sign that freeskiing is really being recognized by the mainstream now?
I definitely think it's getting there. Our sport just keeps growing and I think with the Olympics approaching our sport is getting more exposure. The world is about to learn about something great.
Did you hang out with Manning and Tebow?
I met Tebow. I really wanted to meet Kobe or Nadal but they were off training. I did however meet a lot of exceptional an inspiring people.
Best advice for someone preparing to walk the red carpet?
Don't be shy. Work it! Glam it up.